Looking for roller skating in Leicestershire? Come down to Midlands Roller Arena! Since this is our first article, we thought it would be a great opportunity to delve into our history and tell you a little bit about what we do!
The History of Midlands Roller Arena
Midlands Roller Arena was opened to the public in 2013 but we'd actually been operating on the land for over 55 years. We started as a dairy farm in 1958, where 70 Ayrshire cows were raised. By 1982, the land was repurposed into a thriving garden centre, which was expanded in 2006 to include a cafe, farm shop, and a garden redesign service. 
The land was passed down to Michelle from her parents Mr and Mrs Cobb in 2006, and the building was later transformed once more into Midlands Roller Arena. 
In 2012, Michelle's son's took a shine to Roller Hockey, and noticed the absence of a training centre nearby, and throughout the country. So, the garden centre was closed and the rink was opened, initially as a roller hockey training centre. 
Since then, the rink has been diversified into the ideal location for roller skating parties, roller skating lessons, public skating and roller discos. 
Despite the immense change from dairy farm to roller rink in the last 65 years, we've forever remained at our site in Ashby Parva, just outside of Lutterworth.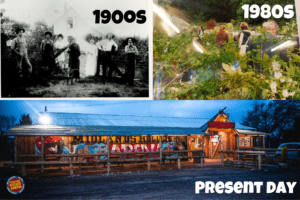 Who can Visit Midlands Roller Arena?
The rink is open to everyone! Whether you've got a three year old beginner, or you're an experienced roller, we have the facilities to accommodate every type of skater. Midlands Roller Rink was built to become a welcoming hub for socialisation, exercising and learning, which we continue to achieve flawlessly.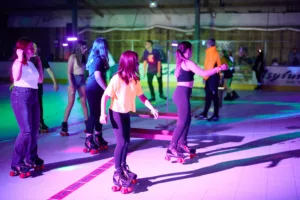 .
What Kinds of Skate Sessions do Midlands Roller Arena Hold?
We hold public skates in multiple sessions every day of the week to make sure there's enough space for everyone to roll, stumble, and get back on their feet. Each session is two hours long and our Mooseshack cafe is open throughout every session, to make sure you get some much needed energy!
We hold specialised sessions to make sure everyone feels comfortable on the rink. For the less confident skaters, the 4pm-6pm beginners session is the place to be! Unlike our other sessions, friends, parents, and guardians are welcome to walk along the rink during the beginner's sessions to help with stumbles and building confidence. 
If your confidence is getting in the way of reaching your goals, we put on roller skating lessons throughout the week, in group settings and one to one, so you can learn without distractions. Give us a call to enquire about our lessons!
We also have an adults-only session every Thursday from 8-9:30pm, if you're looking for a unique date night activity!
Looking for a fun Friday night activity? We also do a great disco from 5:30-8:30 every Friday to ease into the weekend, manned by our resident DJ, Summy. 
Lastly, by following our social media, you'll get first access to news about the events we're holding during the school holidays, including festive discos!
Do Midlands Roller Arena do Parties?
Roller skating parties are a weekly event here at Midlands Roller Arena. For £15 a head and a party of at least 15, you'll have exclusive access to our rink for an hour and a half, and choice of a menu of kids favourites, including pizza, burgers, chicken nuggets, sausages and chips. Not to mention unlimited blackcurrant and orange squash!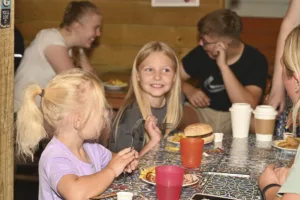 .
What Food do Midlands Roller Arena Have?
Between standard sessions and roller skating parties, our Mooseshack cafe is open constantly, giving you the opportunity to refill your energy with hot food and snacks. We also do meal deals, but not in the traditional sense!
With a meal deal voucher, you'll pay £10 and receive entry to the rink and one meal of your choice.
Do We Have to Bring Our Own Safety Equipment?
If you forget your pads, or helmets at home, don't worry! We've got plenty of safetywear to keep your wrists, elbows, knees and shins protected in the rink.
What can I do if I'm not Skating?
If you'd rather keep your heels off wheels, you can rejuvenate with a coffee in the Mooseshack cafe and make use of our superfast free wifi!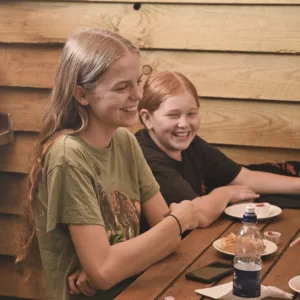 .
How do I Book?
You can book on our website or turn up on the day and pay! If you have any questions while you're here, please don't hesitate to ask. We're here to help you have fun. 
We hope to see you soon at Midlands Roller Arena.